In celebration of Black History Month, the UMA has been highlighting the positive contributions of our African-American members. We would like to honor a very special person to conclude our Black History Month 2017 series, Mr. James "Pat" Patterson – a self-described "plain old person that struggled in life and never gave up." Pat is a Computer Facilities Manager in the CIO Data Center.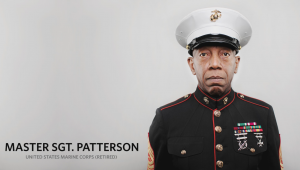 Pat was born in Stephenson, West Virginia in 1951 and was one of six children – five sons and one daughter. Pat's father, Robert Lee Patterson, worked the hard life of a coal miner. His title as a miner, was "Fire Boss." In this role he ensured the coal mine was safe for others to begin working. This required Mr. Patterson to lay flat on his back in a cart, and venture into the mine with a lit lamp to ensure the area was safe from gasses that may be present. Basically, if Mr. Patterson didn't explode, the crew knew it was safe to proceed. One day, at the age of 47, Mr. Patterson was the victim of any fire boss's worst fear, a mine explosion. Mrs. Patterson, a nurse in the nearby town of Mullens, and their six children worried for days that Mr. Patterson would never come home. Pat was only nine years old at this devastating time for the family. It was three days before they received word that Mr. Patterson was alive. He had suffered a crushed skull, broken back, and many other injuries, seen and unseen.
Understandably, Mr. and Mrs. Patterson didn't want their children to grow up working in the coal mining industry. When Pat was 17 years old, Mr. and Mrs. Patterson sent him to an extensive three month computer trade school in Wheaton, Maryland. Pat lived in a boarding house in Washington, DC for those three months. That brief time away changed his life forever.
During the Vietnam War, the Army was using a lottery system based on birth dates to conscript men into service in Vietnam. In April 1969, Pat's number (13, for his February 13 birthday) was drawn, and he was drafted into the U.S. Army. While preparing to serve, Pat saw a U.S. Marine Corps (USMC) recruiter next to the U.S. Army recruiting office. Pat inquired about becoming a Marine and decided to join the USMC. He entered the Marines on November 24, 1969.
During graduation, the Senior Drill Instructor said to Pat, "[your] military occupation series is Combat Engineer." Pat responded with, "No, sir. I will be a computer operator, data processor." The Drill Instructor said, "Private, you go to building 1431 and if you can convince the Gunnery Sergeant (Gunny) that you can operate a computer, you will become a data processor." Pat went to see the (very large and intimidating) Gunny to make his case. The Gunny gave Pat a deck of data cards (similar to those in the movie Hidden Figures) and pointed to a computer and told Pat he had 30 minutes to sort and decollate the cards, and generate a printed report.
The Gunny came back in 15 minutes and told Pat he had to stop working. Luckily, Pat was already done. "No way are you finished," said the Gunny gruffly. But Pat was finished – and his work was perfect. The computer that the Gunny had Pat use was the same computer Pat worked on at his three-month trade school. From that moment, Pat become a computer operator/data processor for the USMC.
Pat was a trailblazer. In 1972, he was the first person to process an automated payroll system in the USMC. In 1982, then a Gunny himself, he led a team of Marines to move the USMC Headquarters' data center from Henderson Hall in Arlington, VA to Quantico, VA. In 1984, while serving in Okinawa, Japan, Pat was a member of a team of Marines that first operated what were known as Green Machines. Marines would strap these computers on their backs in order to capture logistics and supply data from the field. The Green Machines were then brought back to be uploaded into White Machines (IBM processors).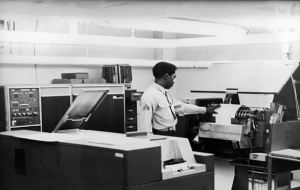 One of Pat's highlights in the USMC was when the payroll system in Okinawa was rendered inoperable. He was flown in a private jet from Iwakuni to Okinawa, Japan in order to process payroll. After 21 years of faithful service in the Marine Corps, Pat retired in April 1990 as a Master Sergeant.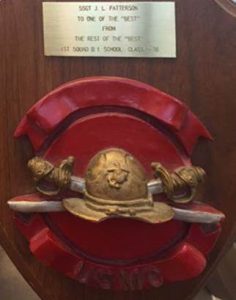 Between April 1990 and December 1993, Pat worked as a contractor for Computer Science Corporation (CSC). He also worked as a contractor with Planning Research Corporation (PRC), supporting the USPTO. Pat wanted to become a government employee and applied to the USPTO 23 times. During Pat's search for employment, he decided to write a letter to the Secretary of Commerce, The Honorable Mr. Ronald Brown. He received a response that the USPTO did not have any record of his applications. Pat sent copies of all the announcements to which he had applied. With the help of an 'EEO' attorney, Pat finally earned a long overdue position at the USPTO on January 4, 1994.
Pat has worked for the USPTO in the OCIO for over 23 years. One of Pat's biggest accomplishments was helping move the USPTO from Crystal City to Alexandria, VA. He and his team were responsible for maintaining the data center in Crystal City and Alexandria until all employees moved to Alexandria. He also maintained the data center for the off-site storage in Boyers, PA.
Pat has experienced deep hardship, which a short interview may only provide a glimpse of, but he's chosen a life of perseverance. He's lived through pain that would have caused many people to give up. Pat experienced the turmoil of school integration as a young boy, has persevered through love, loss, and deceit, and felt the heartache of the passing of both his parents. Pat's resilience seemingly knows no bounds. He finds a way to smile every single day, even after suffering the exceptional pain of losing four of his seven children – one of whom was tragically hanged in a senseless act of violence. The detective working on his son's case calls Pat every May to let him know he hasn't given up looking for those responsible for his son's death. When asked how Pat keeps going and stays so positive, he says he leans on advice provided by his mom after experiencing deceit. "Son, you can't change things," she said, "You can only pray and ask God to fix it for you. Just have faith and wait on Him."
Pat has a deep appreciation for his parents. He says his folks raised him to be a leader. Mr. Patterson instilled in Pat to always stand up for himself. He told Pat, "Son, no matter what you do, you will always be a black man. Never let anyone disrespect you. Honor and respect others and it will come back to you. Don't ever forget where you came from."
When expressing admiration and appreciation to Pat – he responds simply, "I'm a plain old person that struggled in life and never gave up. I just smile, help others, and appreciate the gifts from God."
While not working and serving others, Pat enjoys rebuilding antique vehicles and is an avid gardener. His collection includes: 1972 Volkswagen Bug, 1976 Chevy C10, 1981 Chevy C20, 1986 Chevy C10, and five foot daylilies.
After 23 years of service at the USPTO, Pat is retiring on February 28, 2017. Pat will be back working at the USPTO as a contractor on March 7, and will be UMA's keynote speaker at our quarterly meeting on Tuesday, April 4.
Thank you, Pat, for your dedication to our great nation and for showing us what perseverance looks like even in the face of tremendous hardship. You are a remarkable man, an inspiration to all who hear your story, and the walking embodiment of the Marine Corps motto, Semper Fidelis.
Reminder: Everyone you meet is fighting a battle you know nothing about. Be kind. Always.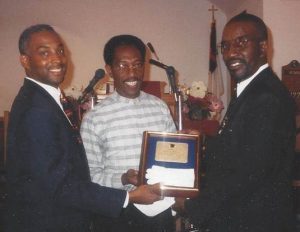 Above: Pat is presented a plaque in remembrance of his son, Joseph Lawrence Patterson. Joseph served as a church usher, and died in a car accident on his way to do work for the church.
Please visit the following sites for more information about Black History Month:
http://www.africanamericanhistorymonth.gov/
https://www.defense.gov/News/Special-Reports/0217_aahm