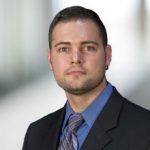 Michael Arguello is a program analyst in the Office of International Patent Cooperation (OIPC), which is one of the newest offices in the U.S. Patent and Trademark Office (USPTO).  His work supports the USPTO's international work sharing efforts through the Collaborative Search Pilot Program.  Michael began working at the USPTO in 2014.  But what you may not know, is that Michael is also an Army Veteran who has served in Kosovo, Operation Iraqi Freedom and Operation Enduring Freedom.
Be All That You Can Be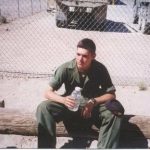 Born and raised in the "Windy City" of Chicago, Illinois, Michael decided to enlist in the Army in 1996. His parents had to sign a waiver for him to join because he was only 17 at the time.  "I wanted to be all that I could be," he remarked. "That was the Army's slogan at the time.  I was drawn to the branch that had the longest history and largest bases.  And my favorite color is green."
Part of his motivation came from his father serving as a sailor in the Navy, as well as knowing both of his mom's brothers served in the Army during Vietnam.  Michael said, "I wanted to experience the life of a soldier, and the honor that goes with serving my country."
Michael spent his first four years on active duty, to include his final assignment at the National Training Center (NTC) located at Fort Irwin, California.  NTC is the Army's premier large-scale training center situated in the Mojave Desert where Michael trained U.S. and coalition forces in full-scale desert warfare. "On my last mission I volunteered to run our platoon's trash to the trash point, which was about a 15 minute off road drive," he recalled.  "In short, I had some serious off road fun.  The kind I couldn't have with witnesses.  They might have needed to replace the shocks after that.  It was the closest thing to earning my airborne wings I ever came."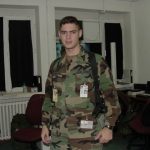 When it came time to reenlist, Michael decided to join the Tennessee Army National Guard for his final four years instead, while attending Middle Tennessee State University full time.  It was during this time that he experienced one of his most memorable moments, while serving in Kosovo. "I was left in charge of personnel administration for Camp Able Sentry in Skopje, Macedonia during an official inspection while my leadership was on travel," he reminisced. "My supervisor heard that I impressed during the inspection and rewarded me with a special undercover security detail for quality assurance contractors inspecting posts in Bulgaria near the Black Sea.  It was a lot of fun, and felt more like an all-expense paid vacation."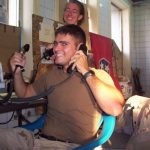 Michael departed the service in 2004 after having served for eight years.  He credits his time in service for making him who he is today. "In short, I gained a ton of self-confidence and I feel like I was a part of something very special," he stated. "Military life is both surreal and ultra-real at the same time."
He also feels that it assisted him in his current job. "It has helped me immensely," Michael indicated. "Simply put, I received my drive while serving in the military thanks to one mentor in particular.  Without that, I don't think I would've applied myself as deeply to achieve what made me marketable."
Continuing to Serve…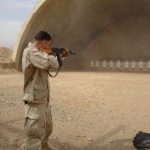 Michael joined the USPTO Military Association (UMA) on his second day at the USPTO. "I actively looked for an affinity group and was overjoyed that there was one relating to the military. Coming to the USPTO after 12 years at Homeland Security was the best kind of culture shock, but a culture shock nonetheless."
Michael joined the UMA because the USPTO was his first experience in an agency that was not primarily Veterans. "I came from the military to the Department of Homeland Security which still felt like being in the military.  I went from having a DHS-wide personal network of over 700 people, to zero here at USPTO.  I needed friends who I shared something in common, and who also had an established network here at USPTO."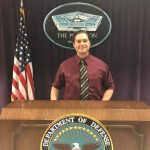 When asked why someone should join the UMA, he stated, "Take a look at all that we have done and who we have helped.  Why would anyone, soldier or civilian, not want to be a part of that?  We do a lot."
In addition to being a member of the UMA Board of Directors, Michael is the driving force behind the UMA monthly Happy Hour. So if you'd like to meet him and share some war stories over a couple of beers and wings, that would be a great opportunity.