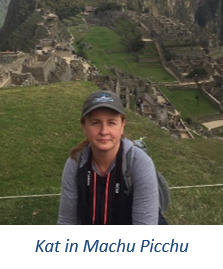 Katarzyna "Kat" Wyrozebski is a Quality Assurance Specialist in TC1700 who has worked at the USPTO since July 1999.  Kat is also a Combat Veteran of Operations Desert Storm and Iraqi Freedom, a founding member of the UMA, and is still serving in the Navy reserves at the rank of Commander.  She has earned the Navy's Aviation Warfare Insignia, Diver Qualification, and Engineering Duty Officer Insignia.
Kat was born in Warsaw, Poland and immigrated to the United States as a young teenager with her parents who wanted to give her and their family a chance at a better life.  Kat claims Rochester, New York as her hometown.
Forged by Sea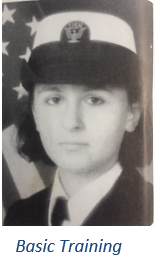 She was in college when she decided to enlist in the Navy Reserves in 1990 to help pay for her college, and became a United States citizen a few years later. Kat has earned several degrees since joining the Navy to include a Bachelor of Science in Physics from the University of California, Berkley, a Bachelor of Science in Chemistry from the University of Rochester, and an advanced degree in Nuclear Chemistry from the University of Rochester.
"I decided to stay in the Navy after my initial enlistment because I felt it was the right thing to do," she said.  "I know that freedom is not easy to achieve, especially when one knows what living under the oppression and abuse of power by a communist government is like."
When asked why she joined the Navy, she replied, "For several reasons, but mainly because I have always loved the ocean."
One of her proudest achievements was when Kat was promoted to the rank of Navy Chief Petty Officer in 1998. "Being a Navy Chief is truly something to be proud of," she said.   Another of her signature accomplishments was when she finished her degree and was commissioned in 2000 as a Naval Officer while living in Alexandria, Virginia and working at the USPTO.
As one of the first women to serve in the Navy's historic VA-34 "Blue Blasters" A-6E Intruder Squadron, Kat is a part of Navy history.  "I had to work twice as hard to be on par with everyone else for two reasons," she said. "First, as a woman and second as an immigrant."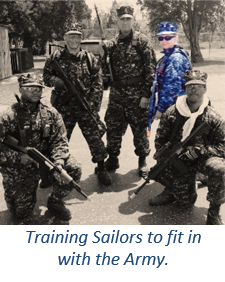 One of her funniest recollections was when her ship pulled into a port for a short visit.  "Sailors sometimes get ideas that get them in trouble," Kat recalled. "On one of those visits I was roving the deck and I saw a drunk Sailor who was supposed to be on restricted duty.  He was trying to get back on board the ship using the mooring line. This did not work very well for him.  A couple of hours later, another Sailor tried to smuggle a tiny Thai lady onboard in his sea bag.  She actually fit in it!"
Another fond memory was when Kat was serving as a warfare instructor during Visit, Board, Search, and Seizure (VBSS) training.  "One of the students, who was in the Navy for maybe about a year, decided to wear his cool looking civilian shades instead of the Navy prescribed protective eye protection.  At the end of the exercise he suffered wind damage to one of his eyes and the doctor gave him an eye patch, much like the movie pirates.  His penalty for not listening was to carry a 'Polly the Parrot' stuffed toy on his shoulder that we purchased from Amazon via next day delivery!"
Working at the USPTO
Kat credits her time in the Navy with her success at the USPTO.  "The Navy has given me the discipline to do my job right and be good at it," she said. "It taught me to pay attention to detail which has helped with writing office actions."
"Being in the Navy reserves has also allowed me to do something that many people at the USPTO don't get to do," she said. "It gives me a chance to serve my country for two weeks a year, which is something that I enjoy."
Founding Member of the UMA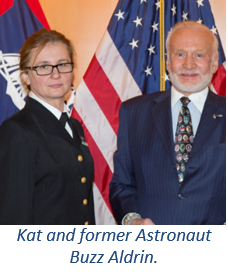 As one of the founding members of the UMA, Kat was responsible for the design and procurement of the UMA colors. "In the beginning, being part of the UMA was tough," she recalled.  "We always had the same people doing all the work and no one seemed to want to join.  It took a long time and a lot of hard work to get the UMA to where it is today."
Kat joined the UMA because she missed the brotherhood that she enjoyed in the Navy. "It's great to be able to chat with other Veterans who can share common stories, and also have to deal with some of the same problems that result from the military service," Kat said. "That is also a reason why Veterans should join UMA.   At some point one of us can say 'I have been there, I've done that, let me tell you how to go about it so that you don't have to go through the same headaches as I did.' "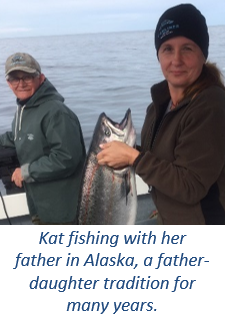 Besides being able to give her son the UMA Challenge Coin, Kat stated that the best thing about the UMA is the comradery.  "My most recent deployment had a huge impact on my life and I do not know if I will ever be the same," she said.  "Here I know UMA members that I can talk to, and we deal with the same issues and we help each other. If it wasn't for UMA, I would not know that folks like that even work here. Regardless how long my road to recovery will be, these types of relationships sure help.  Maybe one day I will smile more and I will no longer need this annoying little machine to help me walk.  Funny thing is, when we first came up with the concept of establishing UMA, I never knew how important these bonds would become to me."
When looking back on her career, Kat said, "Overall, I think my entire career was fantastic.  If I had to do it again, I would."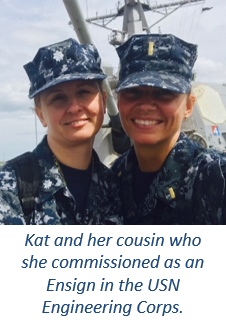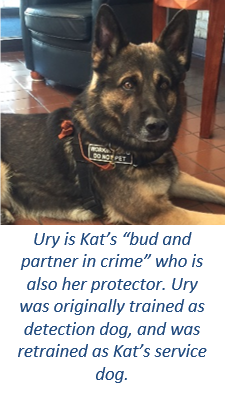 ---
The UMA is an affinity group whose mission is to provide fellowship, mentorship, and support for military veterans working at the USPTO, and to help educate others on the important contributions that veterans have made – and continue to make – to the workforce and our nation. Membership is open to all USPTO employees, and prior military service is not required.