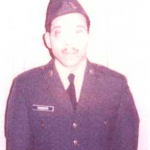 Clifton "Cliff" Randolph started his career in the U.S. Patent and Trademark Office as a file clerk in 1988 and has worked his way up to his current position as a Patent Application Technician in the Office of Patent Application Processing.  But did you know that Cliff is also a U.S. Navy Veteran?
Cliff was born and raised in southwest Washington, DC.  He originally sought to join the Air Force after completing 18 months of college in Howard University's Air Force Reserve Officer Training Course.  However, he decided to put off joining the military when he met his future wife. Cliff eventually joined the Navy in 2000 from the Naval Reserve Station in Adelphi, Maryland at the age of 36.
In the Navy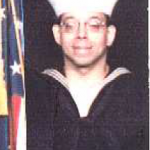 "I wanted to join a different branch than my dad and most of my uncles.  I was turned away from the Air Force because of my age and ended up talking to an Army Recruiter," Cliff recalled. "He told me that with my skills and my Architectural Associates Degree that I should try the Navy.  A Navy recruiter came visit me at the USPTO and explained the different technical jobs that the Navy had to offer. He also told me about the 'Seabees,' which is the Navy's Construction Battalion. Being married with children, I did not want to have to leave home on long deployments at sea, so he told me that I could serve my country and stay near home in the Naval Reserves. I joined and was accepted with an advanced pay grade of E3.  Upon completion of boot camp from Naval Station Great Lakes near Chicago, Illinois, I proudly came home to serve as a Seabee in Naval Mobile Construction Battalions."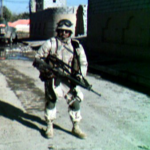 One of the reasons Cliff joined the military so late in life was because he was caring for his ill father who had suffered a stroke and required full time care. "I was so happy and honored to help my dad live out his final years comfortably in our home," Cliff said. "My dad, Joseph O. Randolph, was one of the first African-American Microbiologist to work for the Food and Drug Administration the 60's. He marched in the original March on Washington in 1963. He served in the Army as a Specialist 4 during the Korean War era. He was a student at the Tuskegee Institute and a Virginia Union University graduate in Biology."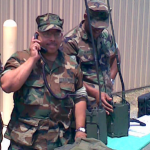 Cliff went on to serve for 13 years in the reserves until he was medically retired in 2013.  Some of his fondest memories were from deployments overseas.  "Some of my best memories are from when I was in Germany and was able to visit the famous Neuschwanstein Castle, attend the NATO Military School in Oberammergau, and visit Munich.  I was also lucky enough to see the biblical Euphrates River in Iraq."
One of the more humorous events that he recalled from his time in service occurred during training at Camp Shelby, Mississippi when Cliff grabbed the commanding officer's chemical gear instead of his own. "My commander was about 5'2' 135 pounds," Cliff recalled.  "I could only fit in the gas mask and gloves. I had to adapt and improvise by rolling down my sleeves and buttoning up the collar on my uniform. After the "All Clear" signal was given it was announced that someone had taken the commander's gear. I quickly realized it was me. She had set hers down where I usually put mine."
Even though Cliff served in the reserves, he did deploy for a tour in Fallujah, Iraq for nine months in 2004 to 2005.  "Those nine months felt like twelve months," he recalled.  "It was the longest time I've ever been away from my wife and kids.  I spent the entire holiday season away from my family, but I did see it snow while on watch Christmas Day while in Fallujah in 2004."
Working at the USPTO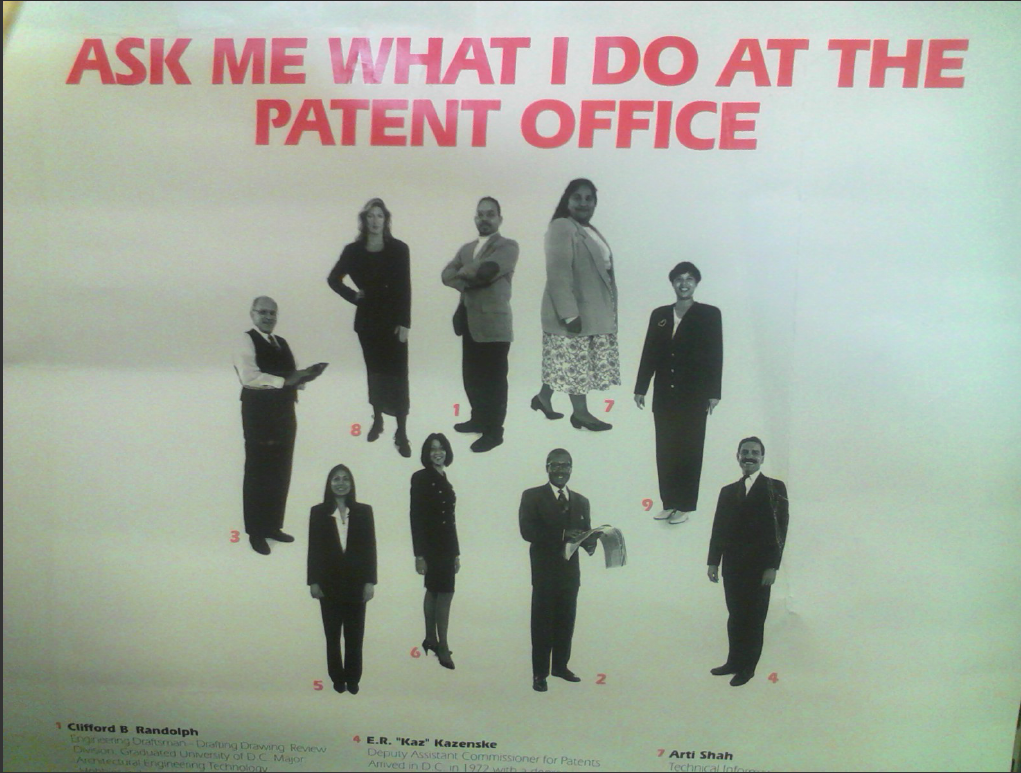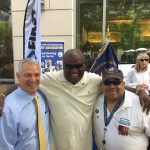 Cliff credits his experience and training in the military with enhancing his career opportunities and helping him get promoted to his current position in 2015.  He was even once highlighted on a USPTO "Ask Me What I Do at the Patent Office" poster when he was a Patent Draftsman.
Cliff signed up for the UMA a year after its founding in 2012 and worked closely with many of the founding members to help get it established.  He joined because he saw it as an opportunity to give back to other Veterans, especially since he was given a chance to serve so late in life. "I always wanted serve my country like my dad, and help in some possible way."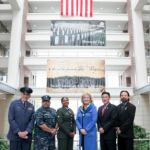 "The UMA is wonderful organization. You do not have to be a Veteran to join. You just have to want support our cause to help all Veterans make a smoother transition to work life at our US Patent and Trademark Office," he said. "The UMA provides veteran a smooth transition into civilian work life. The UMA also gives Veterans a way to stay connected socially.  We have members from all of the branches working together and the comradery continues. It also gives civilians a chance to hear about a Soldier's experiences, and an Airman, Marine or Sailor can do the same.  We have all of America's best on one team committed to a common goal. I continue to serve."