Dr. Olivia Wise is a Patent Examiner in TC1600, AU 1631 Bioinformatics who has worked at the USPTO since November 2014.  Olivia has served on the USPTO Military Association Board of Directors since 2016 and is currently the 2018 UMA Secretary.  But that's not all. She is also a U.S. Marine who was honorably discharged in 2012 after serving for six years, to include two years in the Individual Ready Reserves.
The Few, The Proud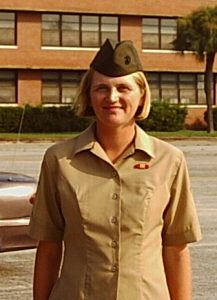 Originally from Grand Forks, North Dakota, Olivia joined the Marines at the age of 19 while living in Arlington, Texas, a place where she had spent most of her life.  Growing up in a military family, she admits to having had an admiration and respect for Marines.  "I thought about becoming a Marine in high school but many of my friends laughed and told me that I would never make it," Dr. Wise recalled. "While on winter break in my freshman year of college, I got a call from a Marine recruiter and decided to go talk to him and see what it was about."
She recalled that her recruiter really believed in her and showed her a path where she could become a Marine and stay in college so she decided to go for it.  When asked why she joined the service, Olivia said, "I just felt like I was being called to do it at the time."
Olivia's best memory from her time in the Marines was during pre-deployment training for Iraq. "Because of the dates of our activation, I had to finish all of my finals for my last semester of college during dead week and leave during finals week so I wasn't able to come back to attend my graduation for my bachelor's degree," she recalled.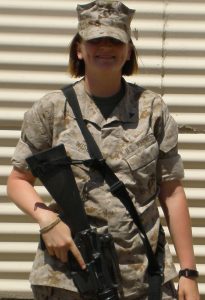 "We were in Camp Pendleton at the time and I was feeling down. One of my friends asked me what was going on and I explained that it was my graduation that day. So she went to the rest of the platoon and told them what was going on, and they set up a graduation ceremony for me. They made a diploma out of notebook paper and a boot band.  They had me wear a poncho as my graduation gown and presented me with the diploma in front of my platoon in formation."
At the end of her deployment, she was tasked with writing up all of the awards for her company of Marines.  "One of my good friends was hoping that he would receive an award and kept asking me about it since I was writing them all up," she fondly recollected. "So I arranged a prank with his platoon sergeants and commander as well as the company higher ups to present him with a made-up award and a crafted medal from found items that was presented to him in front of the entire platoon. Everyone thought he was getting a Navy Achievement Medal except for those of us in on the prank."
Working at the USPTO
Dr. Wise credits her experiences in the service with her success as a Patent Examiner.  "It helped me to be disciplined in my work schedule and getting things done efficiently and correctly" she stated. "It also helped with my self-confidence and being able to make decisions and stand by them."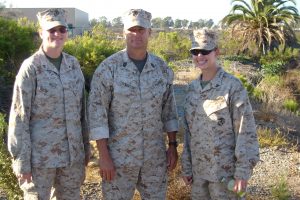 Olivia has "continued to serve" by leading the Veterans Day Celebration for the past two years.  "I think it's important to provide a time and space to recognize the contributions of Veterans both inside and outside the USPTO and show our support for our fellow Veterans."
Olivia has been UMA member since early 2015 and recommends the affinity group to everyone. "It's a great organization that not only provides support for Veterans inside and outside the USPTO," she said, "but is also a great place to build friendships and connect with people with similar backgrounds and experiences."
The UMA is an affinity group whose mission is to provide fellowship, mentorship, and support for military veterans working at the USPTO, and to help educate others on the important contributions that veterans have made – and continue to make – to the workforce and our nation. Membership is open to all USPTO employees, and prior military service is not required. Contact the UMA for more information.