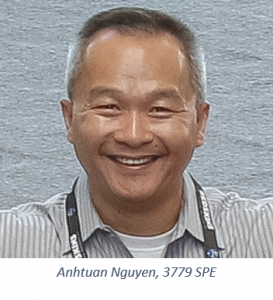 Anhtuan Nguyen's story of courage and sacrifice didn't start with a visit to a military recruiting station, or with applications to military academies. As a young refugee from South Vietnam, Anhtuan lived his life with gratefulness and determination. This attitude set him on a path of service to our nation in the U.S. Army for more than 25 years – and he's still at it.
If you have not seen Anhtuan around lately, it is because he is currently deployed to Afghanistan and is serving as the officer-in-charge of the Defense Logistics Agency (DLA) Disposition Services.  He is responsible for the mission of DLA Disposition Services and its deploying DoD civilians and military, in joint operations. His people are dispersed and located in four geographically different sites across Afghanistan.
Anhtuan gave us the opportunity to ask a few questions so we could share his story with fellow colleagues as the USPTO.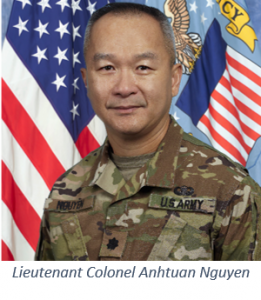 Why did you join the Army? I joined in 1992 and am still serving after over 25 years. I chose to join the Army because my dad had served in the South Vietnamese Army before the fall of South Vietnam to the communist North Vietnam.  As a child, I escaped Vietnam on a boat. I was a refugee and became known as one of the "Boat People of Vietnam." The boat I was in was stranded, pirated, rescued and taken to Thailand. I was in three refugee camps before my uncle in the United States sponsored me. I finally arrived in America as a 15 year old. As I was finishing up high school, I thought it would be a noble duty to serve in the United States Army. I originally wanted to go to West Point but, because I was not yet a citizen, amongst other things, I did not meet the requirements. I decided to go to the local recruiting station and enlist.  However, the Virginia Military Institute accepted me and I joined the Army ROTC program there. At graduation, when I was 23, I received my commission from VMI.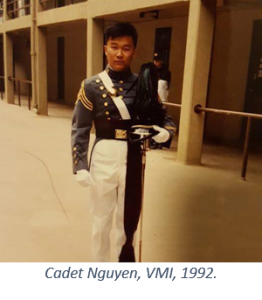 How did your service and experiences affect your life?  I have lived my life by the seven Army values known by the acronym of LDRSHIP – Loyalty, Duty, Respect, Selfless service, Honor, Integrity, and Personal courage. VMI disciplined me. The Army gave me opportunities to thrive, follow, lead, mentor, train, give back, and learn from my mistakes and excel both personally and professionally. The Army has allowed me make decisions that materially affect its people and its mission. It has allowed me to grow and understand life from a much different and raw perspective. During my 25 year, I have been to various parts of the US for various training, humanitarian, and military operations; and I also have been to Germany, Korea, Japan, the Philippines, Hungary, Bosnia, Kosovo, Kuwait, Iraq, Morocco, and now, Afghanistan.
How do you think your time in service has helped you in your current job?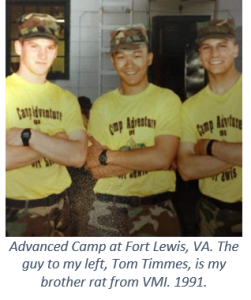 Being in the Army allows me to appreciate my job at the USPTO. The USPTO offers the flexibility, predictability, and low-stress work environment.  The similarity is in taking care of people and mission. The level of responsibility I have in the Army, however, is dissimilar.
For example, as a Battalion Commander, I was responsible for more than 500 Soldiers dispersed between Baltimore and Tampa, as well as equipment and an annual budget of over $400M. Additionally, I have served in third-world countries and have witnessed things that most people do not experience. Being in the service allows me to comprehend and appreciate the freedom many people enjoy daily.  Many Americans do not realize that our brothers and sisters in arms are in harms' way every day keeping us free.
What is your impression of Afghanistan? I wish we could have quickly eliminated Osama Bin Laden, gotten rid of Al Qaeda, neutralized the Taliban, and allowed the Tribal Leaders to lead this country in the first couple of years after 2001.  However, since we did not do that, I know we are in this mess for a long haul. We cannot abandon this country, like the way we did with Vietnam. It will be at least another 17 years before we can see any measurable and sustainable improvements.  We need to let the current government, its people, and the bad guys know that we are committed. However, moving forward, we may need to slightly modify our game plans and strategies."
What is like for American Service Members in Afghanistan? I don't really have an answer for this question. It is different for each of us. My point of view is different all the time. While deployed, I focus on my people, my mission, and completing my job successfully.
What surprised you the most about Afghanistan? It is oddly beautiful. This country has potential. Its future, however, is unclear.
If you have worked with the Afghanis, what is it like, and what has impressed you the most about them? In my job I do not get to associate with the Afghan people very much, but I can say that they are very hard workers. Their country has been at war for a very long time, hence they constantly would have to fight for their survival and for the survival of their families, with and by whatever means necessary.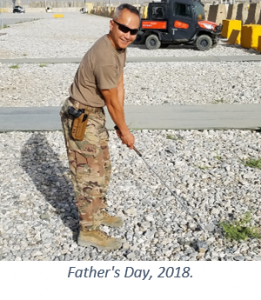 Why did you join the UMA?  I joined UMA during its inception in 2012. It is an organization with mission, direction, and purpose that affects both the USPTO and the local community. My only wish is that we could get more Veterans and supporters to spare 30 minutes a few times a quarter to enjoy a cup of coffee, a story, or a cold beer with UMA members.  Not only is it a good time to meet new people and share "war stories," but it is the ability to simply listen and/or to lend a helping hand to a fellow worker or a deploying military member.
 Anything else you would like to add?  I am fortunate for the opportunity to serve this great country which is now home to me.  I have worked hard all my life. Only in America could I, as a Vietnamese refugee, have been given the opportunity to work hard and make it where I am today.  I have been very blessed.
The final thought I would like to share is a quote from Sun Tzu, The Art of War: "To fight and conquer in all our battles is not supreme excellence; supreme excellence consists in breaking the enemy's resistance without fighting."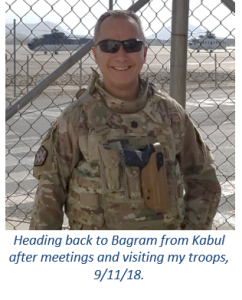 ---
The USPTO Military Association (UMA) is a USPTO affinity group and 501(c)(3) non-profit charity whose mission is to provide fellowship, mentorship, and support for military Veterans working at the USPTO, and to help educate others on the important contributions that Veterans have made—and continue to make—to the workforce and our nation. Membership is open to everyone and prior military service is not required. Contact the UMA for more information at uma@uspto.gov.