Calvin Moore celebrated his three year anniversary at the USPTO this month. He currently serves as  the TC 2600 Director's Secretary.  But, his public service didn't start here – Calvin is also a Veteran of the U.S. Army National Guard and retired from the U.S. Navy.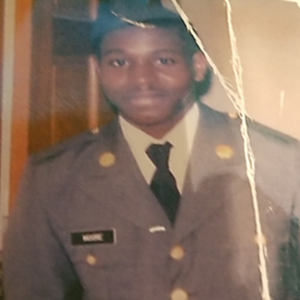 Calvin is from the Chicago area, but was living in Rock Island, Illinois when he joined the Army National Guard in in 1981, and later the Navy in 1983. He was searching for a career opportunity that would set him up for success.
"I joined the military because there were no good jobs available where I lived that could help me get to where I wanted to go, and to do what I wanted to do in life," Calvin remarked. "I joined the Navy because I like being around the water and I love to travel.  Not to mention the job they offered me sounded exciting."
Calvin has lots of great memories from his time in the service.  Some of his best memories are from his time stationed in Rota, Spain where he met wonderful people and enjoyed the location.
"I love the area and the people were great. It was so laid back, and I had so much fun because of the people I hung out with," he recalled. "The beach was only ten minutes from my apartment and the base was even closer.   It was so inexpensive to live there, so I was always able to send nice souvenirs back home to my family."
Not all of his time in the service was a day at the beach. There have also been some anxious times during Calvin's time in service as well.
"I have experienced a lot of tense situations that I can't really talk about, but the closest experience I had to actual war was a submarine trip to the Middle East after September 11th.  I was there for 35 days."
One of the most surreal moments Calvin had was when his ship pulled into the Russian port at Vladivostok, which is located not far from Russia's borders with China and North Korea near the Sea of Japan.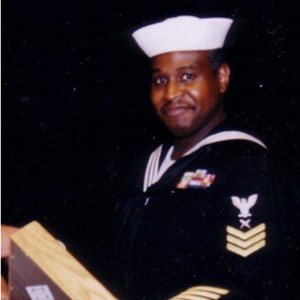 "As we pulled in, it seemed like all the ships were freshly painted, but upon going ashore and walking past them you can see they only painted one side of the ship and the other side hadn't been touched."
Calvin was able to visit the Russian Marine's barracks and talk with them.  "They would work out using cement stones instead of the usual weight sets like you would see in a gym," he recalled. "What also struck me as really odd was learning that some of the Russian Marines were actually getting food from their family members because they couldn't afford food on their salary.  Crazy."
He remembers how odd, yet telling, that experience abroad was. His interaction with the people and culture in the areas he traveled to have stuck with him as well.
"I also remember a young boy running up to me and giving me a 10,000 Ruble bill, which at the time was only worth maybe a penny.  It was a weird experience."  He also recalled being on the trolley that ran through the town and Russian ladies were giving flowers to the men.  It's those little moments Calvin wouldn't have experienced without joining the service and seeing the world.
Working at the USPTO
Calvin credits his time in the service with teaching him about teamwork and how to adapt to any situation.
"But most importantly it has taught me about people and how we are truly different we are in cultures and actions," he said. "But in the end we can all work together to get thing done.  It made me appreciate life and look at things for what they are and how I can do my part to try and make things better."
It has also helped him with his job at the USPTO. "My experiences in the service taught me that customer service is important and how you treat people will determine how successful you can be, not only at work, but in life."
Calvin has been a member of the UMA since joining at Community Day in 2015.  He joined because he believes that the UMA is about bringing people together to help others and because he enjoys the comradery.
"The idea of helping others and, most importantly, our veterans is really important to me," Calvin said.  "So being in an organization that you can find the help you need, wherever that might be, is something I'm proud to be a part of."
What Calvin likes best about the UMA are the weekly coffees, the great events and the fellowship that it creates.  "If you like helping others and want to be a part of something important and fun, you should join UMA!"